History of Street trends
Zoot suits
It is a suit with a long coat with wide lapels and wide padded shoulders worn over high-waisted, wide legged, tight- cuffed, pegged trousers. It was introduced in the 1920's but got popularized by the African Americans, Mexican Americans, Puerto Ricans, Italian Americans and Filipino Americans during the late 30's and 40's.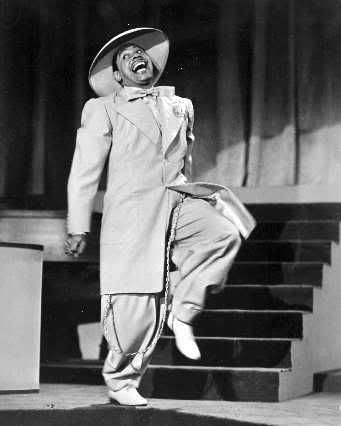 Cab Calloway (1907-1994), during his young jazz days in 1930's.
circa. 1943

Dior Homme Fall /Winter 08
The pants in this collection had the pegged trouser, tight cuffed look.

Marc by Marc Jacobs, Fall 2008 RTW runway.

This is a modern day interpretation, especially since women weren't the one in zoot suits before.
Teddy Boys
It started in Britain coming to the end of post war austerity amongst the youth who had money to spend. The British Teddy Boy subculture is embodied by young men wearing clothes inspired by the styles of the Edwardian period. A 1953 newspaper headline shortened Edward to Teddy and that's where the name of this look and culture got its roots. This subculture originated in London in the 1950s and rapidly spread everywhere in UK and soon became strongly associated with American rock and roll music of the period.
ca. 1954, London
A group of 'Teddy Boys' enjoy an evening out at the Mecca
Dance Hall
in Tottenham, London, UK, 29th May 1954.
Fall 2006 Men's Comme des Garçons
The detailing on the jacket, the tennis shoes give us a less formal teddy boy style, yet the color black and the slick back hair style are so on point with the teddy boy look.
Topshop Unique Spring 2009
A sweet interpretation.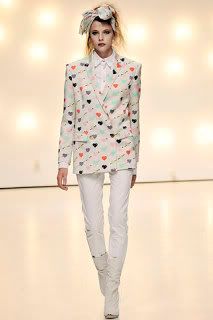 Beatniks
It was about the underground, nonconformist, anti-materialism, intellectual artist philosophy which in turn inspired the hippies movement. A beatnik look usually consisted of over sized chunky long sweaters with huge cowl collars worn over slim fitting pencil skirts or slacks with stirrups. all black clothing was one of the beatniks looks. To me, it had a very artistic french inspiration, berets, dark shades, cigarettes etc.
Audrey Hepburn from the movie "Funny Face" 1957
Marc by Marc Jacobs Fall 08'
Over sized chunky half sleeved sweater, berets, sunglasses, over sized houndstooth dress.
Emporio Armani 08'
a modern beatnik style with a nod to 1950s, topped off with that essential cool girl attitude.
Mods
Originated in late 1950's in London. It's core elements evolved around music, fashion, scooters and pop art.
Innovative, creative, bold and brash. Bright bold colors and geometric patterns which tended to be ultra-short and sleeveless. Their style consisted of modern clean lines & neat shapes. The cuts were either boxy with hard edges & straight lines or circular in shape. Popular styles were miniskirts, jumpers, A-line skirts & dresses,lean pants, shift dresses, glossy rain trenches, low heeled square & round-toed shoes & boots, patent leather go-go boots & opaque solid & patterned tights.
Twiggy, circa 1966
Known for the high fashion mod look created by Mary Quant, Twiggy changed the world of fashion.
Eley Kishimoto Fall 2009
Mod inspired dress
Dsquared, Spring rtw 08'
yellow shift dress, clean lines, really short, bright colors, very mod inspired.


Hippies
A 1960's movement. It originated in the Haight-Ashbury district of San Francisco. It was anti- establishment , anti-war, and lived by the slogan of "Love, peace and happiness". The style was usually long hair, beards, headbands, bright, tie dyed clothing, jeans, bell bottoms pants, vests, peasant blouses, and long full gypsy skirts. They clothing was non-western inspired with Native American, Asia, Indian, African and Latin American motifs. The art was very psychedelic.
"Summer of Love" is the summer of 1967, the hippie counterculture movement that started in San Francisco quickly spread to other parts of the country
like here in Arcadia.
photograph taken by Milton Bell of Monrovia on June 4, 1967
. Arcadia
Ritu Kumar, Indian Designer spring 09
The tie dyed long gypsy skirt is one of the main styles of clothing in hippie fashion.

Diane von Furstenberg Spring 09
Bright peasant shirts with ethnic detailing on it is very hippie-esque.

Disco
Disco is a genre of dance oriented - pop music that originated in the 1970's. The music and style of dancing brought about the fashion. It was discotheque fashion, involving shiny clinging Lycra in hot acid colors, one piece Lycra jumpsuits, sequins and so forth.
Chloe Spring 09
The shiny pants and the one piece outfit even though not skin tight nor a jumpsuit are very reminiscent of the 70's shiny Disco.
Iceberg Spring 09
Disco inspired shiny jumpsuit.
Punk
It originated in the late 1970's based around punk rock music. Punk-related ideologies are mostly concerned with individual freedom and anti-establishment views. Common punk viewpoints include anti-authoritarianism, non-conformity and not selling out. Punks seek to outrage others with the highly dramatic use of clothing, hairstyles, cosmetics, jewelry, tattoos and body piercings. Its style consisted of ripped clothing embellished with safety pins and razor blades jewelry. Leather was very popular.
Punks burning a flag (early 1980's)
Rodarte Spring 2009
Everything about this look is very punk besides the eye make-up of course.
Chanel Spring 2009 rtw
Simplified approach to punk with the slit tube top and the chains. I think the color black is what makes it more punk though.
Christian Siriano Fall 2009
To me metal chains and spikes are very punk inspired.
Hiphop
Originated in the late 1970's, early 80's in the Bronx, New York City. It was started by the African Americans and Latino Americans as an artistic form of musical expression called rap. It gave them a voice to let their issues be heard.
"Young black Americans coming out of the civil rights movement have used hip hop culture in the 1980s and 1990s to show the limitations of the movement." Manthia Diawara(1998).
In Search of Africa
.
Hiphop has a "vital progressive agenda that challenges the status quo." Jeff Chang, It's a Hip Hop world (2007)
The early 80's trend for hip hoppers was established by sportswear and fashion brands, such as Le Coq Sportif, Kangol, Adidas and Nike. Later bright, often neon- colored clothing and baseball caps were popularized. Hip hop style accessories include big gold chains, big diamond pendants and chains also known as "bling", grills on their teeth and more.
Album cover for "The Message", Grand Master Flash & The Furious Five 1982
Dsquared2 Spring 2009 Menswear Collection
Gold chains, big pendant, Baseball cap, the whole relaxed attitude, very hiphop.
Ed Hardy/Spring 2009
Graffiti inspired clothing.
Louis Vuitton 2009
The font used on this bags is very graffiti inspired.
New street trends & street trend not mentioned above
Grunge
Th grunge look came about from the grunge music. It was a sub-genre of alternative rock music that emerged during the mid 1980's in the state of Washington, particularly in Seattle. It got popular in the 1990's by bands like Nirvana and Pearl Jam.
It look was an anti- fashion look. It was about a laid back lifestyle and not caring about your look. Layering clothing, especially over sized lumberjack plaid flannel look, oversized beenies, ripped faded jeans, Doc Martens and so forth.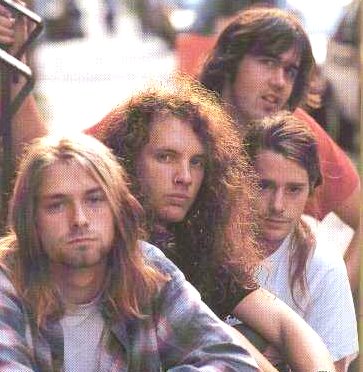 Nirvana in 1989
Front to back: Cobain, Everman, Channing, Novoselic
Kristen Mcmenamy photographed by Steven Meisel, Vogue Dec 1992
Naomi Campbell and Kristen Mcmenamy photographed by Steven Meisel, Vogue Dec 1992

Marc Jacobs Grunge inspried collection for Perry Ellis Spring/Summer 1993.

Marc Jacob Fall 2006. A more sophisticated version of the grunge look.


Optical illusion fashion
I think this part of this culture grew from the hippie generation, i think kaleidoscopic art and psychedelic prints was a big part of the drug culture and slowly it translated into optical illusions. Magic started out in the streets, magic is all about optical illusions. Street painting are a big example of optical illusions too.
VICTOR VASARELY
1908-1997
Kurt Wenner
Victoria Beckham, Alexander Mcqueen 09
Quite a dizzying dress and gives the illusion of a perfect figure.
The idea is to stare at the clothing, and you will see it the circles move.
Pierre Cardin 2009
Fendi 07 milan fashion week
Alexander Mcqueen resort 2010
Again, if you stare at it long enough you will see the lines moving.
Spray Paint/ Hand painting
Another sub genre of hiphop inspired clothing would be the spray paint. It may not have only stemmed by graffiti but also from Pollock's style of paintings. People doing graffiti would have remnants of the paint on their clothing and personally i think it became its own little style. Now people just paint with acrylics on their clothing for that personal style. Graffiti is meant to be about the voice of the oppressed and anti- establishment attitude. So spray painting follows that DIY free-spirited route. Same goes for hand painting, it has a very DIY style to it yet it add a very personal artistic flair to it.
Number 18 by Jackson Pollock, 1950


Chicago illustrator and designer Angel D'Amico's clothing line Ad Love is very of unique. Hand screen printed, stenciled, and hand painted.
Van Taylor is the artist behind "The Obama Sneaker" pictured above, done in 2008.
Acrylic paint and waterproof pens
Alexander Mcqueen resort 2010
Dolce & Gabbana's Spring 2008 Ready-to-Wear
Hand painted with that free hand artist vibe to it.